Summer Palace Press
BOOK LAUNCH- Earagail Arts FestivaL                    July 4th                    Carn Lodge, Ramelton
The Sketch, the Ship and the Afternoon: Ten Years at the Summer Palace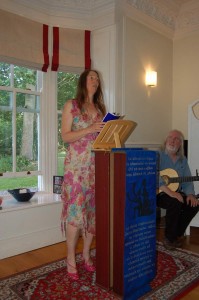 The Sketch, the Ship and the Afternoon Ten Years at the Summer Palace Press
Pictured at the launch of the anthology entitled the Sketch, the Ship and the Afternoon to celebrate ten years of publishing by Summer Palace Press The launch was performed by Kate Newmann, publisher, as part of the Earagail Arts Festival.
A full house enjoyed readings from the anthology by Denise Blake, Averil Meehan, Brian Smeaton, Imelda Maguire, Clare Mc Donnell, Don Byrne, Kathryn Daily and Mary Turley Mc Grath with Celine Mc Glynn. Fabulous music for the evening was provided by Seoirse O'Dochertaigh.
The poems selected for the Sketch, the Ship and the Afternoon are vignettes of each of the books that have been published. The cover of the anthology is a beautiful painting by Katherine Yates of Ardara.
The book is available on Amazon.co.uk
Calendar
August 2022
M
T
W
T
F
S
S
1
2
3
4
5
6
7
8
9
10
11
12
13
14
15
16
17
18
19
20
21
22
23
24
25
26
27
28
29
30
31
Categories